Meditation
Throughout the Day
by
Vasanthi Bhat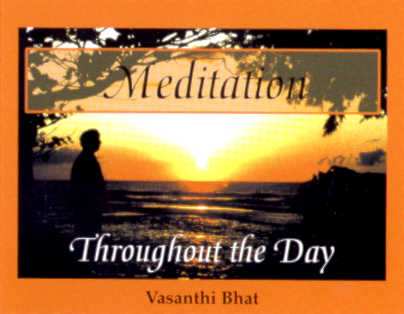 A unique book especially written to help readers to experience and enjoy many instant relaxation and meditation techniques with just a few minutes of practice, which are often overlooked in our fast-paced lifestyles.

Meditation is the practice of mindfulness-living with awareness. The dominant feature of meditation is controlling and focusing the restless and ever- wandering mind. It is extremely important to realize that meditation does not mean creating a blank or empty mind with force. The most effective methods of meditation encourage a positive way of thinking without producing any stress, anxiety, or negative thoughts.
Ever since the beginning of humanity, many different religions have come into existence at various places throughout the world. What is remarkable about the human quest for spirituality over the centuries is that all religions have developed their own kind of meditation as a basis of their practice. But the goal of all these methods of meditation is to reach an exalted state of higher consciousness and inner peace-the common basis of spirituality.
The techniques described in this book are simple, yet practical ways to relax the mind from the time you wake up in the morning until you sleep at night. They are highly beneficial in relieving stress, depression, guilt, anger, balancing emotions, improving concentration, will power, faith, self-esteem, and experiencing inner peace while expanding spirituality.
Beginning the Day

Throughout the Day

Ending the Day

Weekly Meditations

Yearly Meditations

Here is an On-Line Review of this Book

The book is dedicated to Swami Sivananda!
Only $12.95
Plus $4.00 shipping
50% of the proceeds donated to charity
(homeless and cerebral palsy children)